The bench is one of four winning entries recently unveiled by officials with The Woodlands Arts Council. Public art contributes greatly to the unique and vibrant spirit in Houston and its surrounding areas. Supporting the vision of George Mitchell, the founder of The Woodlands, and the mission of The Woodlands Arts Council to promote public art and the creative economy, a competition was established in 2014 for designers to create new art benches to be displayed throughout the city.
Due to the pandemic, the entire process was shifted online in a series of virtual presentations from more than 80 submissions. This year's entries were narrowed down to 12 finalists with the four underwriters choosing one winning bench from sub-groups of three artists. According to a press release on the project in January 2020, each individual bench was underwritten by entities or individuals who, "submitted answers to questions that pertained to the location of the bench and their feelings about the location." From that information, artists created designs and then submitted the ideas for consideration to be chosen by an underwriter.
The Art Bench Project currently has 20 art benches. Other benches can be found in various areas along The Woodlands Waterway, The Woodlands Mall, Town Green Park and Waterway Square. The first eight benches were installed in 2014 with Phase 2 of the project seeing six additional benches added in 2016. The third phase was completed in fall of 2018 with six more benches, bringing the total to 20. Each bench is designed to last at least 10 years and, after being installed, are maintained by staff from The Woodlands Township.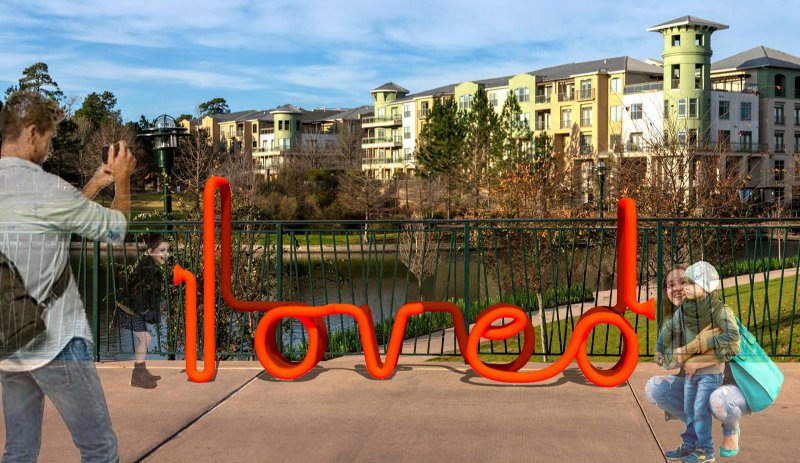 This Fall, four additional benches will be added, bringing the total to twenty-four.
Out of the four winning benches selected for inclusion, Site #2 belongs to Kirksey siblings Michelle Old, Stacy Moore, and Kevin Giuseppetti.
Their winning design, entitled "You Are LOVED," [pictured above] uses words that carry great emotion to create a memorial bench with a playful feature celebrating the life of the underwriters' son. The siblings drew on their experience with built projects to bring their art bench to life.
Congratulations to Michelle, Stacy, and Kevin on the recognition!
Click here to find out more information about The Woodlands Art Council's Art Bench Project.