Behind the statistics of any building are stories of hard work and dedication from the people who made it possible. At Kirksey, we love celebrating those stories.
In particular, we are excited to showcase the stories behind the Mall/Garage and the Barbara Jordan Building (1601 Congress) with the Texas Facilities Commission. One such story is the depth of female leadership involved in both projects.

The team members involved in the Texas Facilities Commission projects gathered for lunch to celebrate Women's History Month. The theme for the day was "Part of the Team," as we gathered to admire the years of hard work that went into the planning, designing, and construction of the Capitol Complex Phase 1.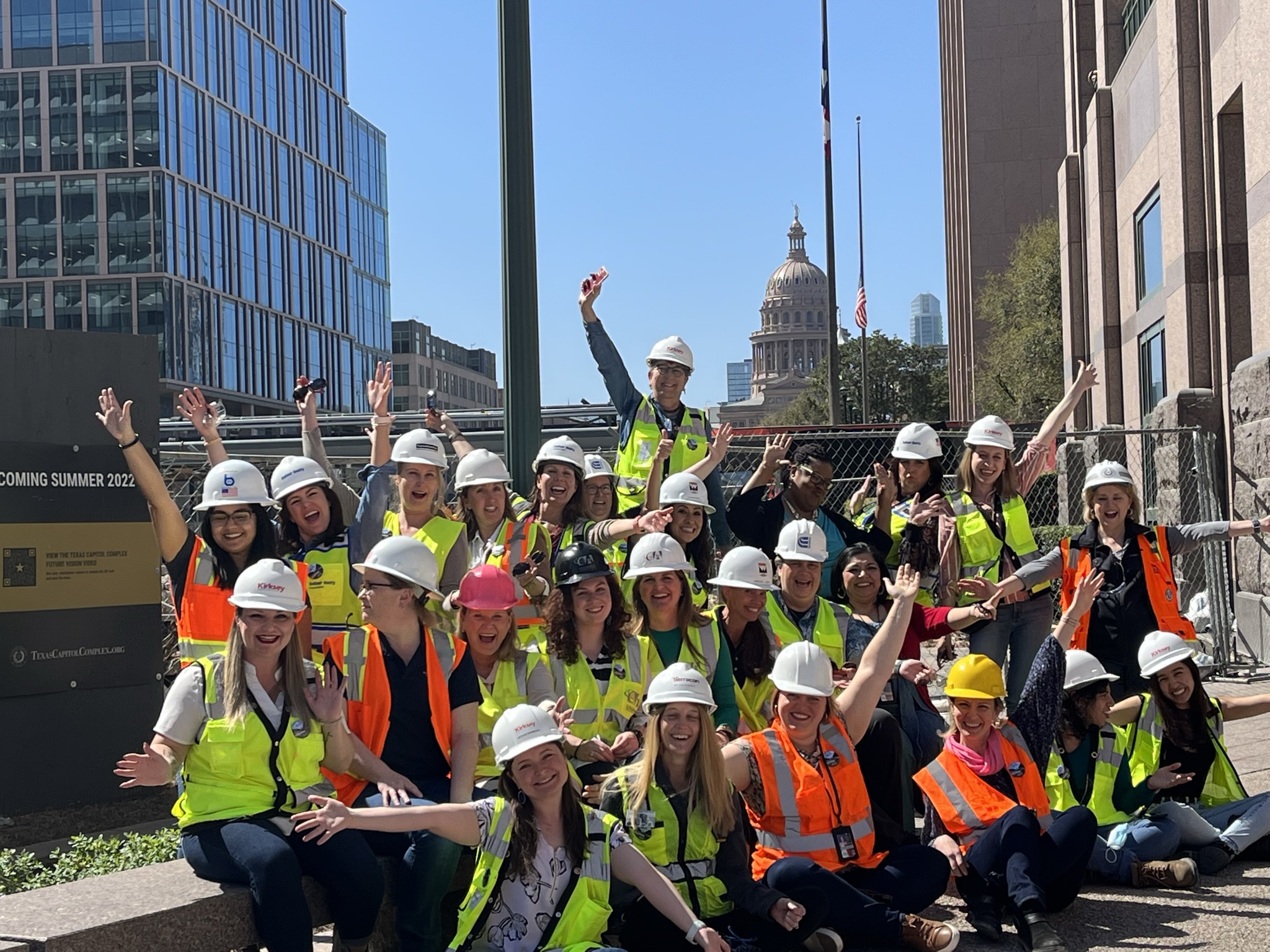 An exciting highlight of the day was when the group entered the Bullock Museum and ran into elementary school students on a field trip. Our team, wearing our hard hats and safety vests, gathered for one more photo along the stairs and were showered with a spontaneous round of applause from the students below! It's so exciting to think that similar field trips will soon include a visit to the Mall.
While the landscape for building and design is changing, many female leaders still find themselves the "only women in the room." We gathered a few of them to share stories about the project, their perspectives, and what parts they'd highlight. After all, a project isn't complete until you show it off to your friends and family. We spoke with Kathleen Jircik, Megan Spencer, Melissa Schmitz, and Nicola Springer from the Kirksey team and Aan Coleman and Ashley Scroggs from Coleman & Associates. Keep an eye out for part two as we interview additional consultants.
Did you even notice that there were several women active on this project? Do you think it changed the dynamics at all?
"Most definitely! This was my first project to work on, where more than two women (including myself) were on the whole project team. It was a real treat to have several team members who I shared the same communication style with; it made working through tough obstacles much easier."
- Megan Spencer, Project Architect 1601 Congress
"Yes, I noticed. I found the group so easy to talk with and work with- it made for a comfortable feeling right away. It hasn't been a huge difference in terms of ability, but it has been enjoyable."
- Kathleen Jircik, Project Manager 1601 Congress and Mall/Garage
"The gender breakdown wasn't on the forefront of my mind until now. I do find the dynamic to be amazing, especially because there are so many women in leadership roles on the project."
- Melissa Schmitz, Graphics and Signage Project Manager Kirksey
"I do remember one early design meeting, and there was just one man in the room- what a change!"
- Nicola Springer, Early Childhood Education Designer
"YES! In the early phases of planning, I was so excited to see many female leaders such as Jennifer (Shell), Gemsong (Ryan), and Kathleen (Jircik). All high-level titles leading from the start."
- Ashley Scroggs. Principal Landscape Project Manager, 1601 Congress and Mall/Garage
"I noticed as well. In particular, I was really impressed by Lisa Aguirre. She has so much technical knowledge and presents all these complexities [of the project] with ease."
- Aan Coleman, Principal Landscape Design Lead, 1601 Congress and Mall/Garage
What is special/unique about this project?
"I'm working on a space that tens of thousands of people will experience- it's so impactful. The space will be part of the fabric of local Texans. I love knowing that kids will come here for field trips and will explore the area- going for a scavenger hunt after eating a sack lunch. College kids will hang out in this space. State workers, tourists- it's where you will bring your out-of-town guests when they come to visit. It's almost overwhelming when I think too hard about it!"
- Melissa
"The underground parking is so complicated and involves so many experts. We're basically 'designing the earth,' so to speak.
- Kathleen
"We worked really carefully to include outdoor learning in the childcare spaces, and it was very cool to design on two levels for children of different ages. Working with the University of Texas is exciting because we know the ideas developed here will also influence the next generation of early childcare educators."
- Nicola
"All the players on this project are bringing their "A" game. The equity and diversity of this team are really shown throughout the leadership. It's also exciting to continue working with firms like White Construction and Kirksey, who I've known for 30 years."
- Aan
When you bring family or friends to see this project, what are your favorite things to show them?
"There were so many complexities for this project. We located a generator inside of the building, detailed a tricky expansion joint that jogged around retaining piers, and conducted countless Security, IT, and AV meetings to improve the functionality of amenity spaces. So many things that the average person would have no idea about when they experience this office building."
- Megan
"I really love the seven regions of Texas that will be featured as part of the wayfinding of the mall/garage. It's a great part of the storytelling. I love, love, love [exact quote] the play sculptures we will have- it includes art and icons about Texas which will be tactile."
- Kathleen
"We really pushed the envelope of what classrooms look like. We looked at the entire experience of childcare- everything from the child's point of view engaging in the space to the experience a parent has while dropping off a child before heading to work. I can't wait to watch the reactions of the families who use this space."
- Nicola
"The sculptures! Seeing people use the site in their everyday lives is so meaningful to me. This project allowed us all to be our best."
- Ashley
"This project will be for the people of Texas. It's a significant new place. It's a once-in-a-career project, and I'll be pointing this out for the rest of my life!"
- Aan