Church & Religious Architecture
We provide church architecture focused on designing spiritual spaces through understanding and expertise.
A modern worship environment is an evolving yet accessible target. For today's religious institutions, growing a congregation and attracting millennials are top priorities. We also recognize the importance of maintaining reverence and appreciation for the history of your past. When designing a new worship space, developing an inviting presence, inspiring social engagement, and incorporating the latest technology are all important considerations. Yet, religious and church design ultimately depends on the client's vision, your mission, and the number of people you can reach. At Kirksey, we understand worship spaces are the foundation of a community, providing spiritual growth and fellowship. And we believe in taking a spiritual approach to its creation.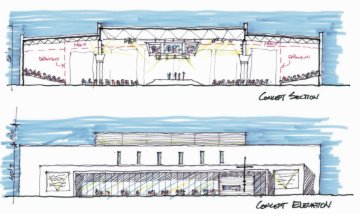 Our Community Team designs with your input from day one, engaging your team to shape your spiritual process. Simply put, we listen. Early collaboration allows our respective teams to openly discuss and visualize the project during schematic design, creating a better end result for a lasting worship facility. In addition, we understand the need to easily communicate your message about growth to your congregation with excitement and positive anticipation. To support this, we're able to provide 3D renderings of design schemes and produce creative animations that communicate intent to your congregation and assist fundraising efforts.

Our Church Design Experience
Offering high degrees of service and design, our Community Team understands that worship spaces are the foundation of a community, providing spiritual growth and fellowship. Through a holistic and collaborative design process, we're able to differentiate ourselves from the start. Our years of expertise allow us to think outside the box and apply creative solutions for any type of worship space – be it large, small, liturgical, contemporary, or othodox.
Education Buildings
Administration Buildings
Nursery & Childcare Centers
Playgrounds & Gymnasiums
Bookstores & Connection Centers
Cafes & Dining
From creating multi-site campuses for
one of the nation's largest churches
to designing a temple addition for the oldest Jewish congregation in Texas, we are proud of the contributions we have made to spiritual spaces. We are
Kirksey Community
, and we're passionate about helping you provide a complete worship environment for your congregation and community.