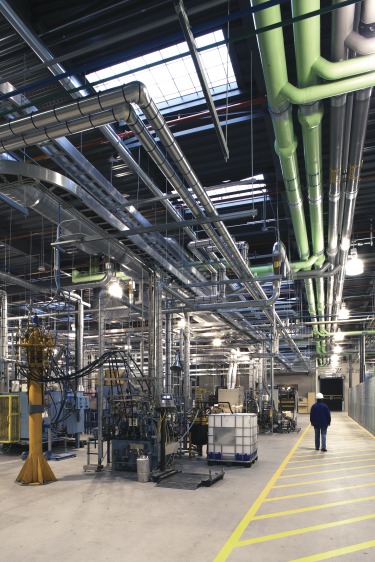 Industrial Architecture & Special Projects
We design industrial facilities that are safe, efficient and meet the needs of the most progressive of companies.
Industrial projects differ greatly in terms of size, scope and programmatic elements, but all include a complex set of requirements. Whether a manufacturing facility or energy service center, you need a forward-thinking design that supports the efficiency of industrial processes while meeting your business goals and functional requirements. Designing for the industrial process requires a level of expertise and hands-on knowledge that is only achieved through years of experience and successful project design. And that's something we just happen to have.
At Kirksey, we believe in the importance of designing facilities that enhance the efficiency of the industrial process. We are committed to understanding the science and technology that drives our clients' success. By knowing the protocols, vernacular, processes and delivery methods involved, we're not only able to enhance efficiency, but provide exceptional buildings that — first and foremost — foster safety as well as durability.
Our Industrial Experience
Our Science & Technology Team values our clients' business goals and functional requirements and develops need-based solutions for complex industrial projects. Through our close collaboration with facilities managers, process managers, plant managers and operations managers, we recognize the importance of designing forward-thinking manufacturing centers, oil field service facilities, "inside-the-fence" blast resistant office structures and workplace training facilities.
Manufacturing
Factory & Manufacturing Support
Warehouse / High-Pile Storage
Distribution
Petrochemical / Oil / Gas
Refinery Support
Hazardous Material Storage
Blast-Resistant Design
Safe Rooms (Hurricane, Tornado, Blast)
Aerospace
Calibration Facilities
Construction / Labor Association Buildings
Training Centers
Field Services Buildings
Residential Dormitories

We're proud of our innovative industrial solutions that complement the complexities of each discipline while simplifying the design and construction process. We are Kirksey Science & Technology, and we possess the experience and knowledge base to deliver exceptional facilities.