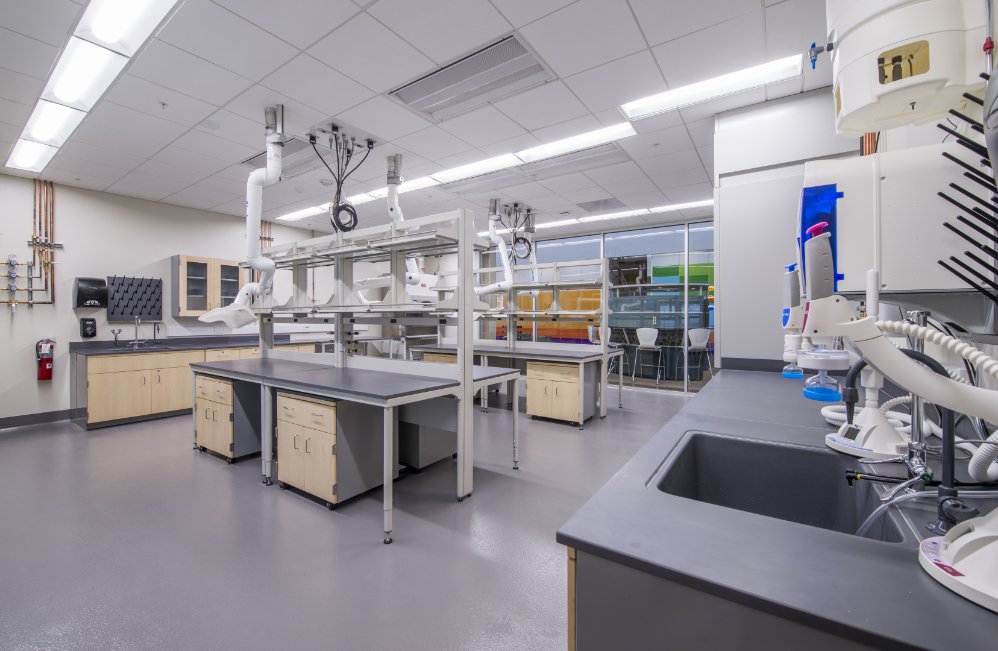 Laboratory Architecture and R&D Projects
Our lab planners & lab architects are experts in science architecture and innovative lab and campus R&D designs from the ground up.
Designing laboratories today means creating more complex, collaborative, multi-use and industry-specific spaces than ever before. Whether for private industry or academic institutions, specialty lab design continues to evolve over time. Technology and science applications are moving at a rapid pace, with mobility and flexibility at the helm. However, no matter how much labs change over time, lab safety expertise remains the one constant for both architects and users alike.
At Kirksey, we know that every good lab project is designed from the inside out. So we start at square one - working closely with our clients to understand laboratory procedures specific to their business for the project to translate effectively. From the type of equipment, flow of the space and safety measures that are incorporated -- everything has to be taken into account before we start designing. We also understand that waste takes up space, so our job is to help clients answer the necessary questions to understand space requirements and storage needs. We effectively deliver a design that helps our clients do better business.
Our Laboratory Design Experience
Our Science & Technology Team is committed to providing design for healthy, high-performance laboratories that are safe, efficient, and ergonomically sound. We work closely with our clients to bring a combined level of expertise and deliver creative and innovative solutions for unique laboratory spaces. With 2+ million square feet of laboratory design in our portfolio, Kirksey's Science & Technology team expertly approaches every laboratory project with customized solutions, specific to the client's safety, programmatic, and technical needs. We also have considerable experience in planning and designing large campus projects for R&D purposes.

Types of lab projects we have planned & designed:
Generic Wet Chemistry
Generic Biology & Life Science
Generic Computational
General Materials Science
General Characterization
Specialized Characterization and Imaging (SEM, TEM, NMR, Faraday cage protected, etc.)
General & Specialized Nanotechnology
General Analytical (GC, MS, etc.)
GeoChemistry & GeoMechanical Lab
Pyrolysis Laboratory
Rock/Plug Preparation and Analysis
Rock Mechanics
Core Analysis Lab
Molecular Spectroscopy
Dedicated NMR
CatScan/MRI suite
Dedicated Process Chemistry
Dedicated Organic Chemistry
Dedicated Organic Elementals Lab
Solids Characterization
Atomic Spectroscopy
X-Ray Fluorescence
Exploration & Production Support (heavy crudes)
Enhanced Oil Recovery (EOR)
Unconventional Petroleum
Liquid Separation
Petroleum Cement Lab
H2S Lab
High Toxicity Lab
Caustic Study Lab
Corrosion Lab
Radiation Lab
Fluid Dynamics & Flow Assurance
Rheology Laboratory
General Fluids Study
Wax Lab
Tissue Culture Labs
Genetic Research
General Bioscience & Life Science
Catalyst Research and Production
Higher Olefin Research and Commercialization
Lower Olefin Research and Commercialization
Float Column Research Space
Microscope Rooms
Flow Loop Laboratory
High Bay / Crane-Served Research
Pilot Plant / Specialized Refinery Support Operations
BSL 2 and BSL 3 facilities
GMO Containment
Vivarium & Animal Support

From laboratory space for discovering tomorrows pharmaceutical solutions to a crime lab to analyze yesterday's evidence, our design strategies create productive environments for scientists and technicians to collaborate, research, test, and prove. We are Kirksey Science & Technology, and we design exceptional laboratories for ground breaking discoveries.